Too many of us struggle to manage our calendars, with competing and constantly shifting priorities, the traditional calendar can't keep up with the hustle and bustle of our modern lives. And since the onset of the pandemic, meetings, specifically video meetings, have increased nearly 50%, causing many of us to overbook and burnout. That's where Katch comes in.


Katch is a platform that gives founders, investors, and other busy people a way to connect with each other without the friction of traditional scheduling tools.

Consider that technology is constantly evolving around us, but the only ever-present traditional tool we're still using is the calendar. Katch allows you to remove the hassle of managing your time.

How Katch Works
We automate the scheduling process - with Katch, users can see the availability of others and be matched accordingly through our platform. As a user, you'll be able to sync your calendar to our app and automatically set your Katch status to 'busy or available'. Your status will be updated using our intuitive features but can be overridden at any time.

Intuitive status updates keep you focused on what you need to get done and when it needs to get done. Katch knows when you're available to connect with other users and does so when you're both available at the same time.

It's that simple. With Katch, you'll be able to meet with others on topics you'd actually like to talk about and use our built-out communications engine to do so seamlessly.

Syncing your calendar to Katch will enable the application to automatically match users for calls based on your availability, easily allowing you to connect during key moments without the friction of the antiquated calendar. We do all the work for you.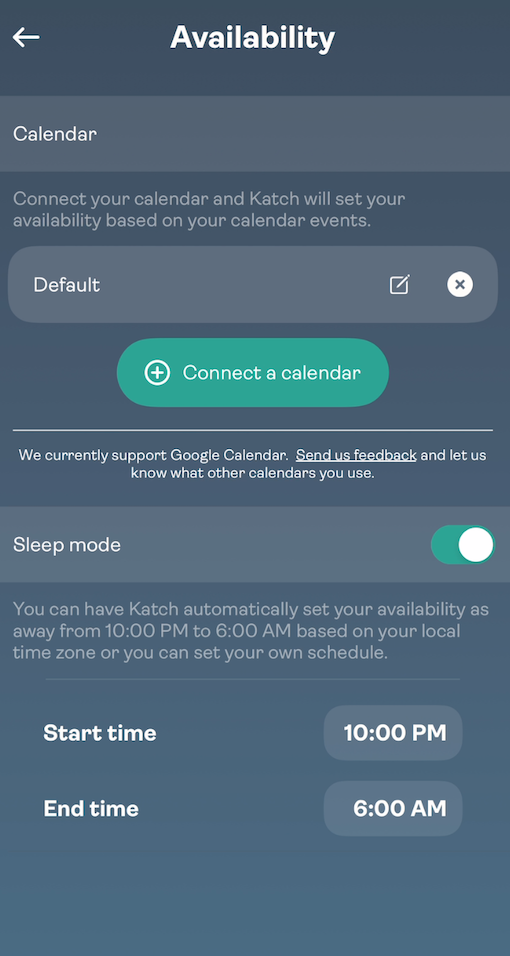 Just imagine eliminating the need to host contacts in your phone, go through the unnecessary scheduling back and forth, endure back-to-back endless meetings throughout the week, and ultimately reduce your risk of burning out. Katch empowers you to break free from the hassle of scheduling.

You can always start small, cancel your weekly 1:1s and add your colleagues and mentors and start connecting in the moment.

You can download Katch now in the app store.